Guangzhou LiRui Packaging Co.,Ltd was established in 2003,has become
a specialized company in the production of flexible plastic packagings, partic-
ularly in producing such special packagings as PVDC food plastic bags , PVC
shrink film and othercomposite plastic bags on pharmaceutical and cosmetic.

We own seven knots imported and demestic-made ten-color intaglio printing
press productionlines,installed with whole-automatic electronic overprinting
system,8 excellent Extrusion;Dry compound Laminating machines and Lam-
inating machines imported from Japan , over 40 sets imported machines on
cutting and making bag , as well as scores of outstanding senior technicians .
Our printing capacity per day amounts to 1.5million metres and capacity of
making bags amounts to 2.5millions pieces so far.We are specialized in CPP ,
BOPP,PE, PET,PA,PL,PVC,PVDC, NY fim,pearl film,vacuum aluminum plating
film,matte film,heat shrink film and all kinds of plastic composite packaging
bags.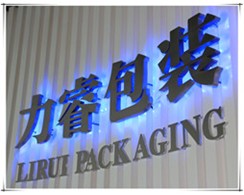 We have established long-term
cooperative relationship with clients
from all over the world.As always, we
produce packings of different functions
and provide our customers favourable
price and the most satisfying service.